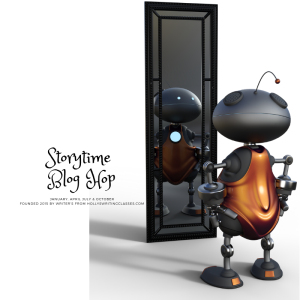 Once again it's time for a fun adventure. Enjoy my story below, then follow the links to other stories of participating authors in the blog hop. Leave us comments. We love hearing from you!
I fudged a little this time around. The following in an excerpt from the first chapter of Vetrix, the first book of my middle grade science fiction series. Sorry 🙂 I promise a complete flash fiction story next time around.
Many of you are familiar with Flipper and Allison and Josh from reading some of their flash fiction stories. Well, this is how
it all started…
Flipper was a normal twelve-year-old kid, or so he thought. Little did he know that a war several million light years away between the Gudes and the Snaders was about to change his destiny. Then again, the Gudes and Snaders didn't realize Flipper was about to change theirs either.
***
Allison's dreams that night were intense, and she didn't feel like she was dreaming. She felt like she had gone back in time — was reliving the previous day — but there was something quite different about this repeated experience, like a long déjà vu.
She was back in Social Studies class and Josh was giving his presentation on the Roswell Incident. Everything looked the same as it had that morning, but this time she was overwhelmed by the same strange sensation she had felt when walking home. She felt like she was in the presence of someone important; kind of like when she met the mayor at a dinner she went to with her parents. Except this felt like she was in the presence of someone much more important than a mayor.
Allison turned and looked behind her. In what had been an empty seat in the back row that morning sat someone she had never seen before. He was older than the students and had a slightly amused expression. His hair was rumpled and his skin was… She blinked, hoping her eyes would clear. His skin was… Allison gaped at him until he noticed her stare and looked her way. She jerked her head back to Josh, droning on about the Roswell Incident.
She felt the presence ease, so she looked back. The man was gone, but she couldn't get his image out of her mind.
His skin had been purple. Brightly, unapologetically purple.
Instantly, she was with Flipper and Josh, walking home from school. She froze sensing the same overwhelming presence as earlier. But this time, when she looked across the street at the lot, she saw the purple man from the classroom standing, watching them.
This time, she locked eyes with him for several moments. The purple man tilted his head, looking at her, puzzled. The look of confusion on his face mirrored what Allison felt. She looked at Flipper and saw her hand clamped on his arm. She looked back across the street but the man was gone.
Allison tossed and turned as her dream intensified.
She began having flashbacks to their evening of trick-or-treating. Everywhere they went, the purple man was there, watching, following. The sense of his presence intensified with each sighting. Finally, she couldn't take it any longer and started running towards him. She didn't know who he was or what he wanted, but she couldn't stand the feeling any longer. She was scared and angry. She screamed, "Just leave me alone!"
Allison startled awake and sat straight up, sweating, breathing heavily. She was awake, but the intense presence she had felt in her dream was still with her. In fact, it was even stronger. She jumped to her feet and turned around. The purple man was standing in the room with them, holding Flipper in his arms. Flipper was still asleep.
"What are you doing?" Allison demanded.
"We are trying to protect you. Blake… Flipper… has been chosen to save us all."
And with those words the man and Flipper vanished.
***
Thank you for reading! Now on to the next story…
Zombies by Barbara Lund
Before The Dreams by Katharina Gerlach
To Wake A God by Juneta Key
The Sprite In The Well by Angela Wooldridge
Something Different by Karen Lynn
0 – The Fool by Raven O'Fiernan
Big Enough by Elizabeth McCleary
Grumpy Old Demeter by Vanessa Wells
Say Please By J. Q. Rose
Provoking the Muse by Moira K. Brennan