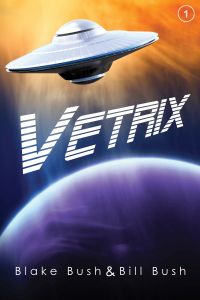 Two alien species. One threat to Earth.
But who is the real threat and who can be trusted?
Twelve-year-old Flipper didn't believe in aliens – until he was kidnapped by one.
When he wakes up one morning on the planet Vetrix he is trapped in the midst of an inter-planetary war. As Flipper struggles to survive and find a way back to Earth he discovers he may be a descendant of one of the warring species and that his intervening in the war may be his destiny, if destiny is decided by a computer program.
On Earth, Allison begins having dreams that turn out to be real experiences. When she watches a purple man disappear with her cousin, Flipper, no one believes her. Allison's best friend Josh agrees to help and together the two sixth-graders begin their own investigation that leads them to the truth behind the Roswell Incident of 1947 and current alien activity on Earth.
As they try to figure out how to expose the secret colony of aliens and their plans to destroy the human race, Allison attempts to use her dreams to locate and rescue Flipper.
Purchase an autographed copy of Vetrix:
Watch the Book Trailer
Read the First Chapter
Book 2: Earth
Book 3: Zentron
Book 4: Sevitan
The original cover from 2017: