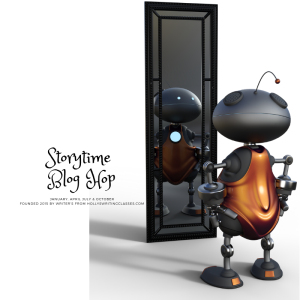 Once again it's time for a fun adventure. Enjoy my story below, then follow the links to other stories of participating authors in the blog hop. Leave us comments. We love hearing from you!
A Startling Revelation
"It says here that the people in Nebraska are so friendly they even wave at strangers as they pass by at high speeds in secured transporters." Neval demonstrated the one-fingered wave.
His partner, Luxiander, gave him the humans' non-friendly, one-fingered wave and laughed obnoxiously. "See, I've studied the human race too."
They had been required to study the new planet before approval to explore, but Luxiander didn't take the bookwork seriously. He was along for the adventure; Neval came because he loved Earth.
"We're almost there; you better transform." Luxiander already looked the part—blond, neatly trimmed hair, clean shaven, about six feet tall, a button-down shirt, slacks.
Average, Neval thought. He would be more creative, yet still fit in with the local crowd. Neval morphed himself into human form with shoulder-length dark hair, a goatee with a touch of gray, blue jeans and a Nebraska Cornhuskers jersey.
"Have you changed your mind yet?" Starsky's voice drew Neval's attention to the monitor and Starsky's big, hairy, green body.
He didn't have the patience for Starsky today. He had been waiting for this moment most of his life. "We're about to land, Starsky. We need to finish preparations."
"I know, I'm just reminding you that I leave in two days, and once I'm on my way my offer to switch is void."
Luxiander also sounded tired of Starsky's persistent pestering. "We're not trading missions."
Luxiander wanted Earth because he didn't want to learn another planet's history. Neval had requested Earth because his mom had read him stories of the young planet since he was little.
"You know I would make it worth your while."
Starsky had promised all sorts of bribes to switch. It wasn't that his destination was bad, it was just in decline. Neval wouldn't trade because Earth was his dream destination. Luxiander wouldn't switch because he didn't like Starsky.
"Bye Starsky." Neval broke the transmission.
The ship landed, and although the crew would rest for a day before leaving, once daylight broke Neval and Luxiander ventured out, excited to introduce themselves to this new world.
Neval flung a backpack over his shoulder while Luxiander carried a duffle bag because he didn't realize how tired his arms would get on our hike into town. That's what he gets for not studying.
Both bags were large and heavy and full of various denominations of United States currency Neval had printed, perfectly counterfeited.
They found a two-bedroom apartment for rent and asked to see it.
A thin, older woman carrying a large shoulder bag introduced herself as Margaret. She carefully wiped the front door's deadbolt and knob with a moist wipe which she placed inside an empty plastic bag and zipped it shut. She unlocked the door and explained that the apartment had only been empty a few days, but she had shampooed the carpets and personally cleaned every inch of the apartment and had wiped down every surface. Neval nodded as if impressed.
As he walked through, Neval didn't doubt the woman's claim.
The apartment was too small for their original bodies, but with the new human bodies it would be enough until they got themselves established on the planet.
"You check the doors and I'll test the faucets," Neval instructed his partner. He wanted to make sure everything worked.
Luxiander opened and closed the closet near the front door. It worked. Immediately when he finished Margaret wiped the door knobs using a fresh wipe, which she placed in the zipped bag with the other.
She scratched her nose and then scowled at her hand. "Oh dear!" She shuffled into the kitchen, washed her hands using soap from her bag, then retrieved a paper towel, dried her hands, and deposited the paper towel with the used wipes. Zip.
Neval looked at Luxiander and they both shrugged.
The lady with the super clean hands followed Luxiander to the first bedroom while Neval checked out the bathroom.
He flushed the toilet, dreading the first time he would have to use the archaic system. Neval knew from his studies that water was important for the human body's function, which led to the use of the toilet. An inefficient method but one that fascinated him. The human race had yet to evolve, as his planet had, to where they could self-recycle their own waste to sustain themselves. They were like Neval's society half a million years ago.
Neval searched the restroom. No toilet paper He knew how important the item was for the human waste deposit process—not something he looked forward to. They would need to pick some up at the store.
Their potential landlord swept into the bathroom, wiped the toilet handle and then the faucet handles, which Neval hadn't yet tested. She sure obsessed about cleanliness.
Everything proved to be in working order so Neval and Luxiander signed a contract and paid the deposit and first and last month's rent with cash that Margaret placed in a sealed baggie to clean later.
Next the pair found a lot that sold the secured transports the humans called automobiles. A short, stocky man with a wide smile and a skip in his step approached Neval and Luxiander. Neval extended his hand to participate in the formal greeting of this culture.
The man reached out but pulled back before their hands touched. "We better not, given the current situation."
Neval didn't know what situation required not greeting each other properly, but moved on.
He and Luxiander selected a truck that would haul furniture in the back and the salesman rode along as Neval drove and Luxiander sat in back. Neval went around the block—not comfortable with going further as the only automobile he had driven was during simulation training.
While the trio agreed on a price and sealed the purchase of the truck, a young kid wiped down the outside door handles and the complete inside of the truck with wet cloths similarly used by Margaret.
Neval had read the histories; some people were germophobes. He had already met two of them.
Neval drove them to a grocery store to buy food to keep their human bodies functioning properly. Luxiander pushed the cart and provided little input as Neval filled the cart with items they needed for a healthy, balanced diet.
When they reached household goods they found the shelves empty of toilet paper. A sign hung from the metal shelf telling them to limit their purchase to one package.
"How can we purchase one if they don't have any?" Luxiander asked.
Neval wondered the same thing. "We'll ask."
They finished their shopping and while the cashier scanned their items, Neval asked. "We didn't find the toilet paper. Do you have any?"
The young lady laughed and shook her head. "No, we haven't had any for a while. We have a truck coming tomorrow but it probably won't have any toilet paper on it."
"We'll go to another store," Neval suggested to Luxiander.
"Good luck," she said calmly. "Everyone's out."
Neval's heart beat rapidly. A light, wet streak slid from his eyes. Luxiander balanced himself by leaning heavily onto the checkout counter.
Neval choked, but managed, "That means they've run out of toilet paper." Suddenly it made sense why Margaret wiped everything down so carefully and why the salesman didn't want to touch hands. Neval gagged. Without toilet paper to clean they had to use…their hands must…he couldn't finish the thought. "If they ran out of toilet paper, that means…"
"Yeah, Neval, I know what the means."
"Let's radio Starsky; tell him he can have Earth."
They sprinted out of the store and toward the spaceship.
Thank you for reading! Now enjoy some more great stories from my friends…
1. A Hiding Place by Gina Fabio
2. A Family Reunion by Katharina Gerlach
3. Better Off Alone by V. S. Stark
4. A Day In The Life by James Husum
5. Nothing To Show by Elizabeth McCleary
6. Super Grammy (Radioactive Breakfast Cereal) by Vanessa Wells
7. Bone Killer by Juneta Key
8.One More Time by Karen Lynn
9. Trail Of Carnage by Jemma Weir
10. A Phoenix In Hell by Sabrina Rosen
11. Friends Of The Deep by G. Craddock
12. Collateral Damage by Nic Steven
13. A Ghost's Life by Barbara Lund