My word for 2020 is habits, so each month I select one habit that I want to stop and one I want to start.
So far in 2020 I've given up:
January – Watching shows for entertainment. February – Soda March – Chocolate April – Chocolate May – No hitting the snooze June – No hitting the snooze
My goal is to stop the habit for a month. At this point I haven't tried to permanently quit any of these. I simply test them for a month and gauge the likelihood of any sticking. Plus, I think it's a good discipline to deny ourselves desire on occasion. I repeated chocolate because I failed in March. I repeated the snooze because I wanted to build on my success.
JUNE: I had another successful month of not hitting the snooze. I only used the snooze button three or four times, and those were days when I had the luxury to do so. I'm not going to make it one of my goals this month, but I want to continue the practice of not hitting the snooze very often. I think I'm at a point I can find a balance with this one.
JULY: For this month I am going to give up national news. I'm tired of the negatives, the lies, and the manipulation of my emotions by reading/watching the craziness. I will not listen to talk radio and will not watch any videos or podcasts that pertain to current events.
I will limit my time on Facebook, but since I use it for work some at this point I'm not giving it completely up. We'll see how the month goes; Facebook could be an August goal.
My starting habits for 2020 include:
January – A daily devotion using the YouVersion Bible app and a ten-minute writing timer (TMT) February – Read a list of truth declarations (Plus daily devotions and TMT writing) March – Twelve minutes in prayer (Plus daily devotions and TMT writing) April – Twelve minutes in prayer (Plus daily devotions and TMT writing) May – Two minutes of prayer after devotions (Plus daily devotions and TMT writing) June – Two minutes of prayer after devotions; Two minutes of core after running; (Plus daily devotions and TMT writing)
JUNE: About a week into June I upped my prayer time from two minutes to three, which felt like the right amount of time, though I can't explain why. I only missed doing my devotions and prayer first thing in the morning three or four times, and only once did I not do them in the morning, waiting until just before bed.
I did well with the core training goal for the first half of the month, but then I went on vacation and it went by the wayside.
JULY: I want to repeat both goals. The morning routine is starting to feel normal and I want to build a good, long base for it before I consider expanding the time. I want to give another shot at doing the core work for two minutes. Hopefully I can get a streak going that I can take into next month.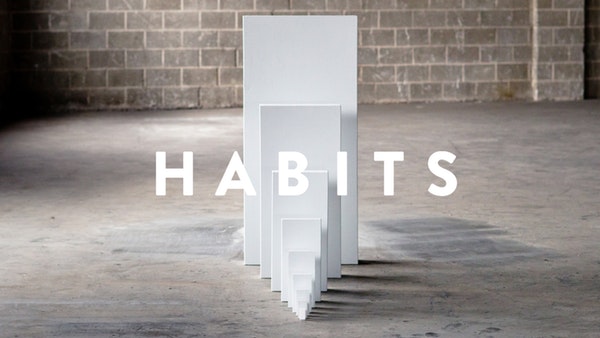 Halfway checkpoint: The year is half over, which makes this a time to evaluate whether this adventure should continue for the full year like I had planned.
I've had mixed results on the stopping goals. I gained myself more time by giving up watching entertainment and seem to have found a morning routine by not hitting the snooze. My food denials haven't gone as well. At this point I don't know what I should give up going forward. That tells me that I need to spend some time considering and praying about this. I think I'll start by rewatching the habit sermons that started me on this journey.
I've had great success with the two goals I started at the beginning of the year. I've only missed one day of not doing my YouVersion devotional on my phone. I have completed 37 reading plans and am currently (as of June 30) on a streak of 79 days in a row.
The ten minute time challenge (TMT) is where I set a timer for ten minutes and write, usually new fiction. I have not missed a day in 2020, logging 182 straight days of new writing. During that time I've completed 753 TMTs, which is 7,530 minutes of new writing (probably 80% of which is fiction), or 125.5 hours or writing. That doesn't count rewriting, revising, plotting, planning, marketing, reading, research, etc.
Even though I've had many failures, I've had some successes, which means I've made progress. The failures simply mean nothing changed. No harm, no foul. The successes mean that something, no matter how small it may be, changed. And like Craig Groeschel said in his first sermon on Habits, "Successful people do consistently what others do occasionally."