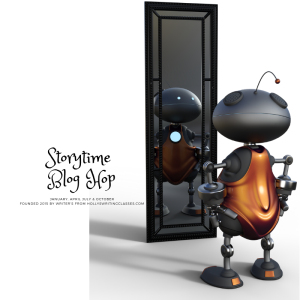 Once again it's time for a fun adventure. Enjoy my story below, then follow the links to other stories of participating authors in the blog hop. Leave us comments. We love hearing from you!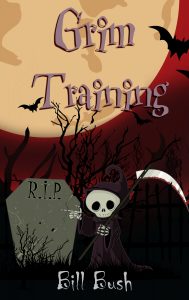 This is the sixth part of GRIT's adventure. To start at the beginning for context, start with Grim Failure.
Bad News for GRIT
Even though the disciplinary council's verdict was the worst news I had ever received, relief swept over me. It could have been worse and all I could think about was not having to sit alone in an office processing paperwork with no hope of ever returning to the field.
Stan and Rick met me outside the judgment room, Stan with a grim frown and Rick smiling like he had just been named Reaper delivery person of the year.
"Tough break kid," Rick said gleefully. "Your next miscue and you're through." He left whistling.
Stan glared, snarled, and I thought he might bite. "I could have gotten you out of this mess. You're a disgrace and they should have executed you."
My knees buckled and I nearly fell.
"Maybe next time you'll listen to me," Stan shouted before chasing after Rick.
Well, at least Stan and Rick had finally agreed on something.
Standing outside, alone, the gravity of my situation sunk in. I had escaped a devastating punishment, but Rick was right—one minor miscue and I would never be a reaper again.
The council hadn't specified an expected collection rate, but I knew that I had to step it up. They had no need of someone who couldn't get his job done. I needed a win, and I needed one badly.
Rejuvenated with a new sense of purpose, I started toward the main office to get my next assignment. It was time to shake off my old, fearful, self and show everyone that I had earned the top spot in my class and I was worthy. I didn't have the luxury to give people slack. If they were meant to die, then I would be there to collect their souls and deposit them as required. No more emotional attachments for me.
The freedom felt great and I wondered how I had gotten so wrapped up in worrying about people and death. It wasn't like watching a reaper die, after all.
I received my next assignment and scanned the file with a new vigor. I had a second chance and I would take full advantage of it!
I had barely left the main office when I bumped into Sheila. Her brother Dale stood a few feet away. Dale and I had been best friends during training, but now he refused to make eye contact.
Sheila was a mess, blubbering words so incomprehensible I didn't know whether to feel sorry for her or to laugh. I decided that since I was probably the source of her sorrow I shouldn't laugh. But when I started to tell her how alive I felt and how much I was looking forward to my next death, she stopped me.
"I can't see you any more."
It wasn't like Sheila and I had known each other long, and we had only really been on the one date, so when her dropping that bomb crushed my insides and forced me to take a seat, I was shocked.
"Dad says you're a bad influence, an even worse reaper, and he didn't want his precious daughter anywhere near you. He sent Dale." She nodded toward her brother as if I hadn't noticed his presence. "He wants Dale to make sure I break it off with you."
I didn't realize I had become attached to Sheila in the short of time we had been together. But she had believed in me when I didn't believe in myself. She helped me overcome my initial fear of death. How could I do this without her support? I was at the end of the line and even though I was determined to prove I could be a great reaper, I didn't think I could do it without help, with support, without encouragement, without Sheila.
"I'm sorry." And with that Sheila left.
Continue reading GRIT's adventures:
GRIT – Part 1
GRIT – Part 2
GRIT – Part 3
GRIT – Part 4
GRIT – Part 5
GRIT – Part 6
GRIT – Part 7
GRIT – Part 8
GRIT – Part 9
Check out the other stories in the blog hop and leave us comments.
The Beauty of Rainstorms by Katharina Gerlach
I Deam of a Snowman by Jemma Weir
Dustin's Chair by Sue Abrie
JunetaKey.com
Rescue Mission by Gina Fabio
The Space Ranger by James Husum