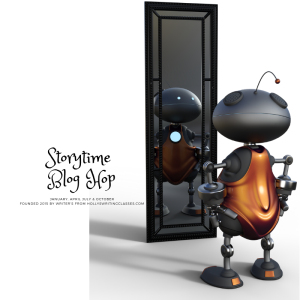 Lucy jumped as thunder shook the window of the fifteenth floor apartment. She hated storms, but she hated the deathly feel of her apartment even more. So she sat in her rocker next to the window and endured the storm that had stolen the usual midday sun; the sun that she considered her best friend.
Her roommates were nice enough, but Zoe worked a lot. Bailey, or Nurse Bailey as Zoe called her since Lucy had broken her leg, was not as helpful as Zoe thought she was. Neither of them understood Lucy's fear.
For each hour Lucy stared out the window—begging the sunshine to reappear—the sky drew darker. The gusting wind slapped rain against the window, startling Lucy from her thoughts.
Lightning flashed and the apartment went dark, along with every light within view of the apartment window. Bailey left the room to sleep, apparently taking comfort from the dark apartment and droning rain.
The lightning frightened Lucy.
When it ceased she was horrified. Without lightning to illuminate the sky and the apartment, Lucy was unnerved, petrified.
The storm raged on. Each moment in complete darkness was utter torture. She wanted to leap out the window. She wanted her life over. But she couldn't move.
"Boo!"
Lucy sprang from her seat and tumbled to the floor. She propped herself up, unable to stand with the broken leg. Her eyes darted in a desperate attempt to spot the culprit. Suddenly from behind her it came again.
"Boo!"
She rolled over and took a swipe, even though she knew it was useless. The ghost just floated in the air and laughed as Lucy's swing went right through.
Lucy stared at her unwelcome third roommate, waiting for its next attack.
Bailey must have heard the commotion. She came running into the room. Lucy desperately wanted Bailey's presence to bring her comfort. She wanted Bailey to understand her fear; to see the phantom that haunted her this time each year.
Lucy listened to the ghost laugh hysterically as Bailey carefully scanned the room. She looked at Lucy and shook her head as she walked away. Bailey couldn't see or hear the things Lucy could.
Lucy crawled under a blanket on the floor and endured the haunting sounds. The ghost tormented her all afternoon, just as it had done every other Halloween.
Finally Lucy heard a noise at the front door; Zoe, returning home from work! Without the sunshine to keep the ghost at bay, desperation overtook hopelessness and Lucy determined to explain everything to Zoe—make her understand this time.
She hobbled to the living room. The door opened and Zoe appeared. Water dripped off her as she set down the umbrella. She closed the door and bent down, beaming at the sight of Bailey and Zoe. Before Bailey could lick Zoe's face, Lucy screamed, "Meow!"
Please check out these other stories by some of my author friends.